The great taste of Flora with only 25kcal per serving. Try new Flora Lighter, a delicious option for the calorie-conscious. Flora Lighter is the perfect spread to melt onto jacket potatoes, smother onto toasted bread and make healthy snacks.
About Flora Lighter
Only 25kcal per 10g serving
28% Vegetable Fat Spread
Perfect for spreading and topping
No Artificial Ingredients
Dairy Free, 100% plant based, Vegan certified
Contains Omega 3, Vitamins A & D
Contains less saturated fat than butter
Gluten Free
Free from preservatives, artificial colours and flavours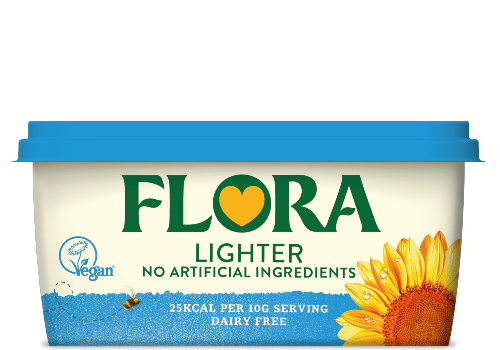 Nutrition Facts
Ingredients
Flora Lighter: Water, plant oils (rapeseed, palm*, sunflower 4%, linseed), salt 1.3%, plant based emulsifiers (sunflower lecithin, mono- and diglycerides of fatty acids), natural flavourings, vinegar, vitamins A and D.
*Flora buys 100% sustainable palm. As a responsible brand, we're committed to ensuring that the palm oil in Flora is from sources that respect human rights, cause no deforestation or climate change impacts with public acknowledgement by NGOs. Upfield is a proud member of the Roundtable on Sustainable Palm Oil (RSPO). Flora Lighter naturally contains Omega 3, which contributes to the maintenance of normal blood cholesterol levels. A daily intake of 2g alpha-linolenic acid and 10g linoleic acid is needed. 2 x 10g servings of Flora a day contribute a significant amount to this. Enjoy as part of a healthy diet and lifestyle.