Plant Burger
Prep Time

15 minutes

Servings

4 portions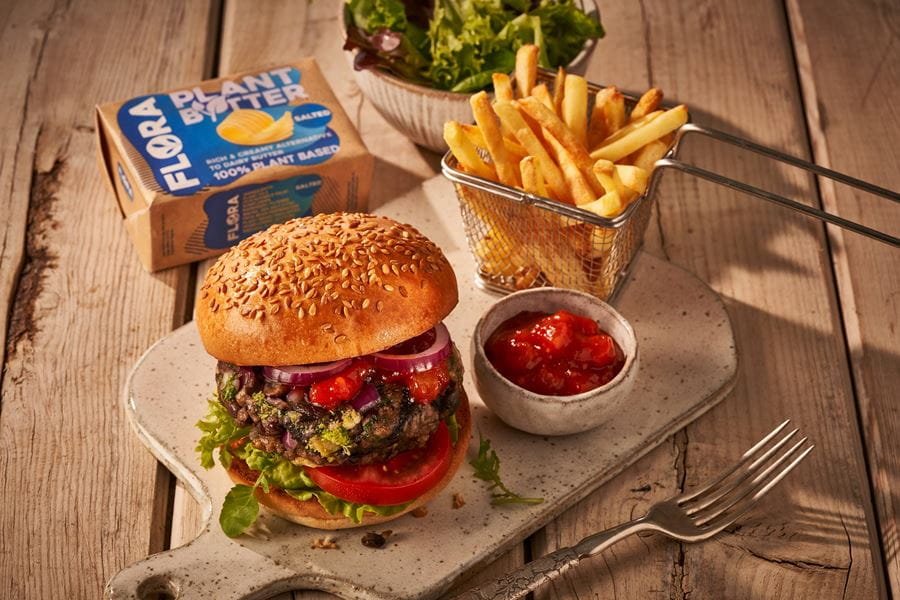 Ingredients
1 tablespoon milled flaxseed mixed with 3 tablespoons water
300 grams portobello mushrooms
100 grams fresh broccoli finely chopped
200 grams cooked black beans
1 red onion finely chopped
120 grams bread crumbs
30 grams chopped fresh parsley
1 tablespoon vegan Worcestershire sauce
2 finely chopped garlic cloves
100 grams Violife Prosciano freshly grated
ground black pepper and sea salt

80 grams Flora Plant B+tter Salted
Instructions
Chop and sautée the mushrooms in 30g Flora Plant B+tter and drain off any water
Lightly mash the black beans
Put all of the ingredients into a bowl and combine well. The flaxseed and water mix will act the same way as an egg to bind the ingredients together.
Shape into patties and fry using the remainder of the Flora Plant for 3-5 mins until golden brown.
Serving Suggestion
Toasted vegan Bread rolls spead with a little salted Flora Plant B+tter.
Red Onion rings
Lettuce
Spicy Tomato chutney
Fresh tomato slices