Vegan Chocolate Ganache Raspberry Cupcakes
Prep Time

35 minutes

Servings

12 portions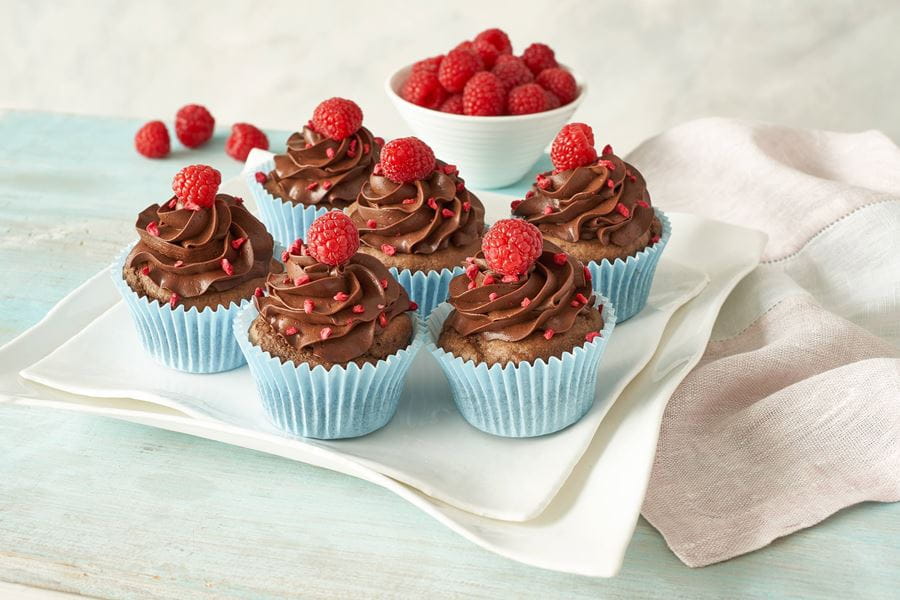 Ingredients
Cupcakes
12 cupcake Cases
165 g plain flour
3 tablespoon cocoa
40g cornflour
100 g caster sugar
2 teaspoons baking powder
half a teaspoon bicarbonate of soda
1 tablespoon cider vinegar

50g Flora Plant B+tter Unsalted

240 ml almond milk
Topping
200 mls Elmlea Plant Double
150 g vegan dark chocolate
12 fresh raspberries
2 tablespoons Freeze dried Raspberries to sprinkle
Instructions
In a jug stir the cider vinegar with the almond milk and leave for 10 mins. Melt the 50g of Flora butter. Combine the Flour, Cocoa, Cornflour, sugar, baking powder and bicarbonate of soda.
Stir the milk mixture and butter into the dry mix to form a batter. Do not over mix.
Divide the mixture into 10/12 Cup Cakes Cases and bake for 20-25 mins at 160c fan.
Leave to cool.
Icing
Heat the double cream until simmering and bubbles appear at the edge of the pan.
Pour onto the chopped chocolate and stir until the chocolate has melted to form a smooth sauce.
Leave to cool in the fridge until the mixture has thickened enough to beat with an electric mixer.
Beat until smooth and slightly lighter in colour.
Place a star tube in a piping bag and pipe a swirl onto each cupcake, add a fresh raspberry and sprinkle with freeze dried raspberries.